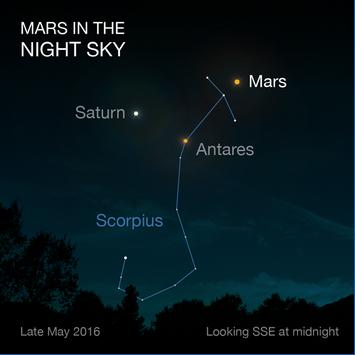 From May 18 to June 3, 2016 Mars will be at its brightest.  Just go outside and look up (SE) for a bright "orange star" that does not flicker. That will be the "red" planet Mars.
It takes the planet Mars about two Earth years minus 50 days to make its trip about the Sun. Mars appears brightest * in our Earth sky when Earth is in the line between Mars and the Sun.  This happens about every other Earth year. Those other years Mars appears dimmer in our sky because at those times Mars and Earth are on opposite sides of the Sun. Some opposition years find Mars and Earth not only on the same side of the Sun, but also in closer proximity. 2016 is one of those years. Enjoy the view!
This year to the unaided eye Mars looks brigher and through a telescope Mars looks larger. Enjoy close-up views of the planet Mars and other wonders of the night sky at the June 10 and 11 Amateur Astronomers Association of Pittsburgh Star Parties scheduled at the Wagman Observatory and at the Mingo Observatory.
[Read more…] about Mars At Closest Proximity To Earth In 11 Years