Celebrate the sky with the AAAP at the Mingo Observatory's last regular star party of 2014, 6:30 PM, Saturday, October 25, 2014.

More information, times and directions: https://nightsky.jpl.nasa.gov/event-view.cfm?Event_ID=56006

Looking Southwest just before Sunset, Mars, Moon, Saturn and Sun in that order from left to right. After the Sun sets, followed by the Moon setting Asteroids Ceres and Vesta appear as the sky darkens. Ceres, closer to the Moon, leaves Vesta (Magnitude 7.27) the better target of the two.  That is only the beginning of the night's sky offerings. Marvel at the wonders of the universe using the telescopes inside AAAP's Mingo Observatory and the member telescopes stationed outside. See the screenshots of www.Stellarium.org sky simulation. Planetarium programs include sky shows and lecture on spectroscopy in astronomy.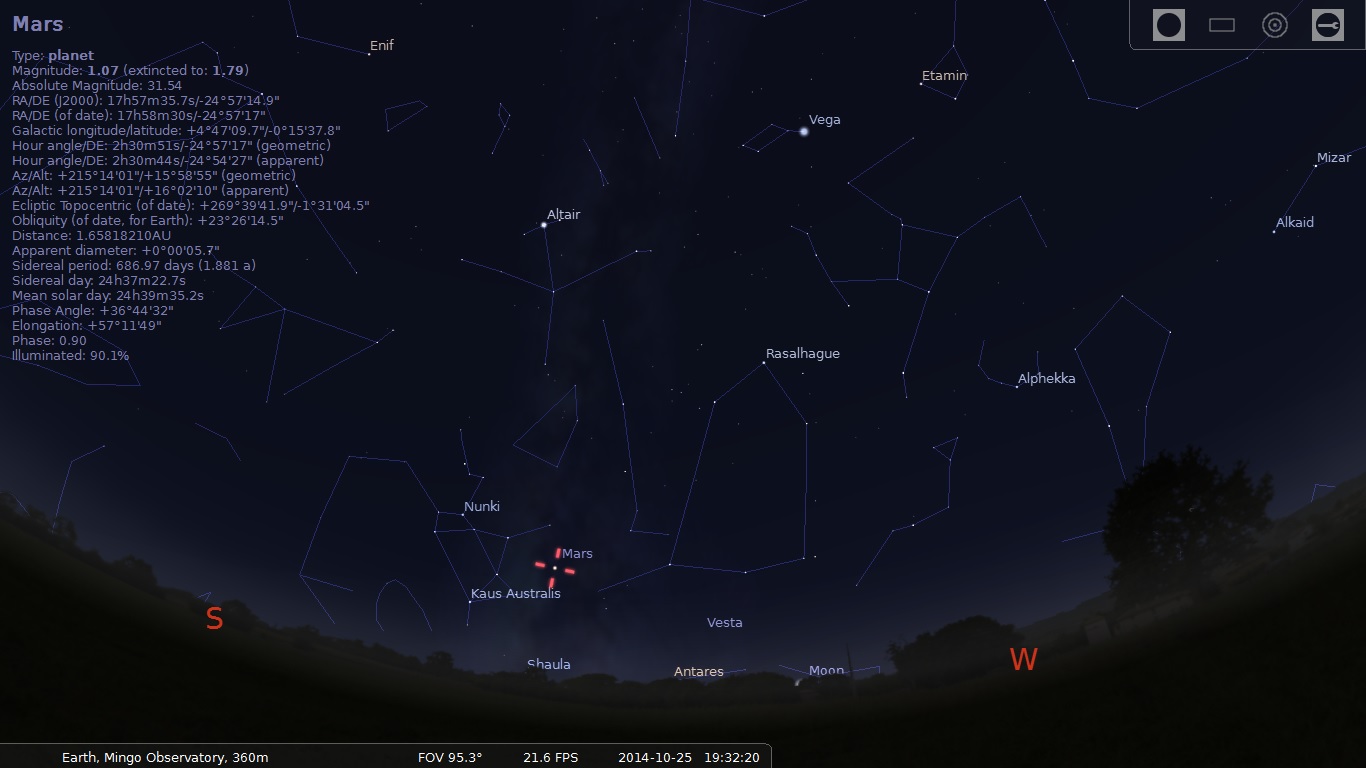 Mingo https://nightsky.jpl.nasa.gov/event-view.cfm?Event_ID=56006
Click on the links for specific star party information including driving directions.
For what is in the sky from Heavens-Above.com: http://www.heavens-above.com/?lat=40.211&lng=-80.019&loc=Mingo+Creek+Park+Observatory&alt=0&tz=EST
Ir Flares are not predicted to occur during this star party.
ISS – Visible Passes
Search period start: 24 October 2014 00:00
Search period end: 26 October 2014 00:00
Orbit: 413 x 416 km, 51.6° (Epoch: 24 October)
Date Brightness Start Highest point End Pass type
(mag) Time Alt. Az. Time Alt. Az. Time Alt. Az.
24 Oct -3.1 19:39:38 10° NW 19:42:56 56° NE 19:44:04 35° E visible
25 Oct -2.4 18:50:34 10° NW 18:53:41 35° NNE 18:56:46 10° E visible
25 Oct -1.4 20:27:23 10° WNW 20:30:14 28° SW 20:30:14 28° SW visible
Old Famers Almanac http://www.almanac.com/astronomy/rise/PA/Pittsburgh/2014-10-25
Saturday, October 25, 2014
Body
Dawn
Breaks
Rises
Sets
Dark
Descends
Day
Length
Sun
6:11 A.M.
7:42 A.M.
6:25 P.M.
7:56 P.M.
10:42
Moon
9:19 A.M.
7:48 P.M.
Mercury
6:24 A.M.
5:51 P.M.
Venus
7:42 A.M.
6:29 P.M.
Mars
12:31 P.M.
9:32 P.M.
Jupiter
1:37 A.M.
3:30 P.M.
Saturn
9:25 A.M.
7:32 P.M.
Uranus
5:36 P.M.
6:16 A.M.
Neptune
4:05 P.M.
3:01 A.M.
Pluto
1:04 P.M.
10:43 P.M.
All times are Eastern Daylight Time at sea level.
"Dawn Breaks" and "Darkness Descends" values are based on astronomical twilight (not civil twilight).
We are watching some rather large sunspots.  Check back for information on possible sunspot viewing at the 10/25 Mingo Star Party.  Meanwhile, please enjoy this post shared by Pittsburgh Space Weather.  It features sunspot(s) photograph by AAAP's Matt Jones: