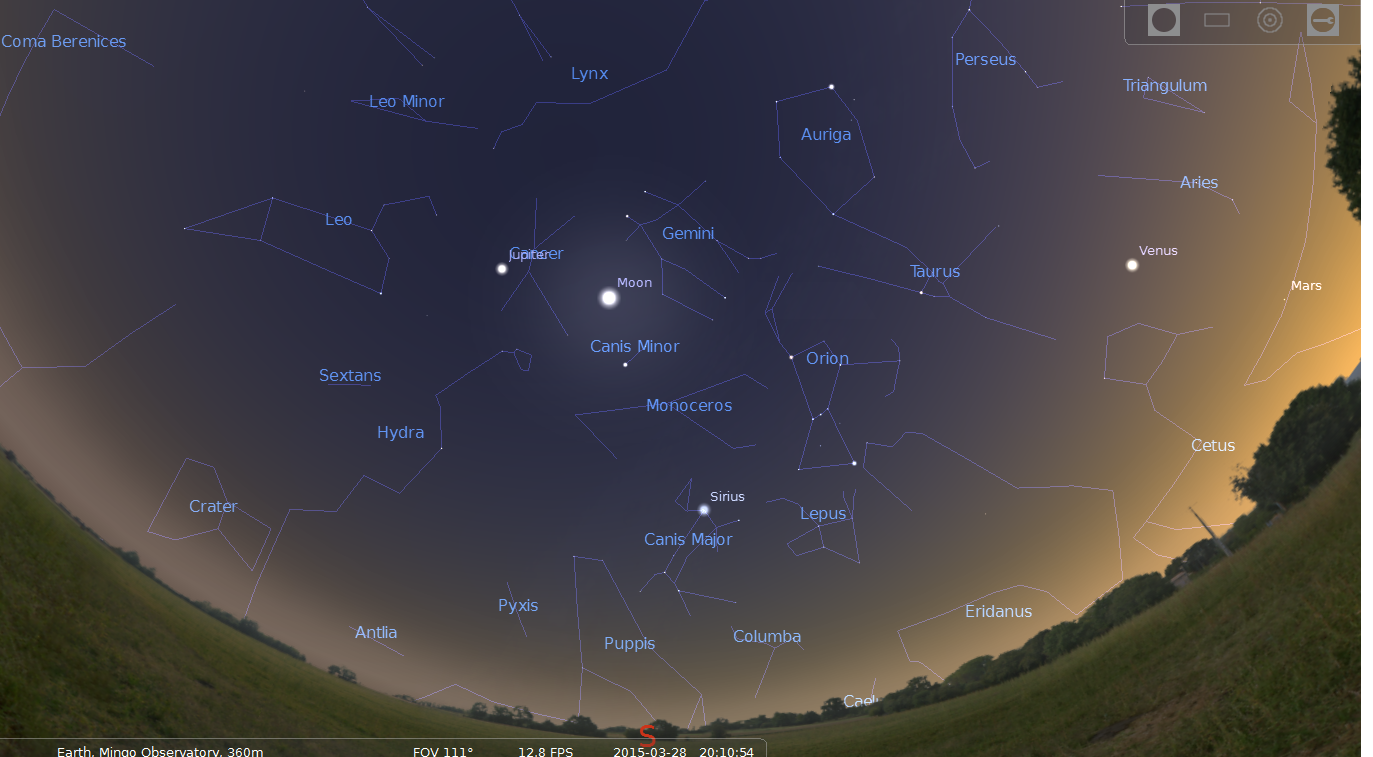 Friday, March 27, 2015, 4:00 PM Update
The Wagman Observatory Star Party scheduled for Friday, March 27, 2015 is CANCELLED due to conditions.
The Mingo Observatory Star Party is ON. Mingo planetarium can operate regardless of sky conditions.  Be aware if the crowd is sparse the observatory may close earlier than usual.  Late arrivals may wish to telephone 724-348-6150 to confirm.
Saturday's skies are anticipated to be clear and we are looking forward to operating the telescopes.
Stellarium.org  Screen Captures: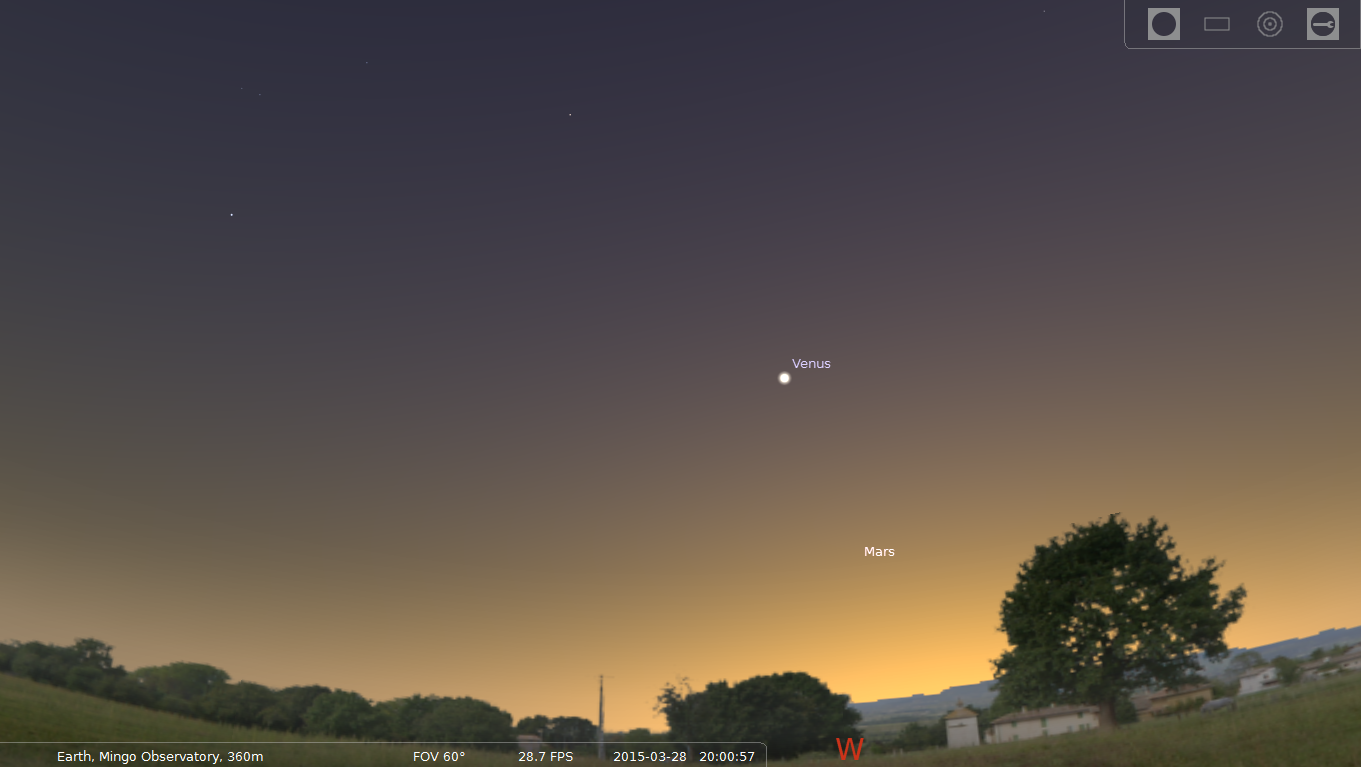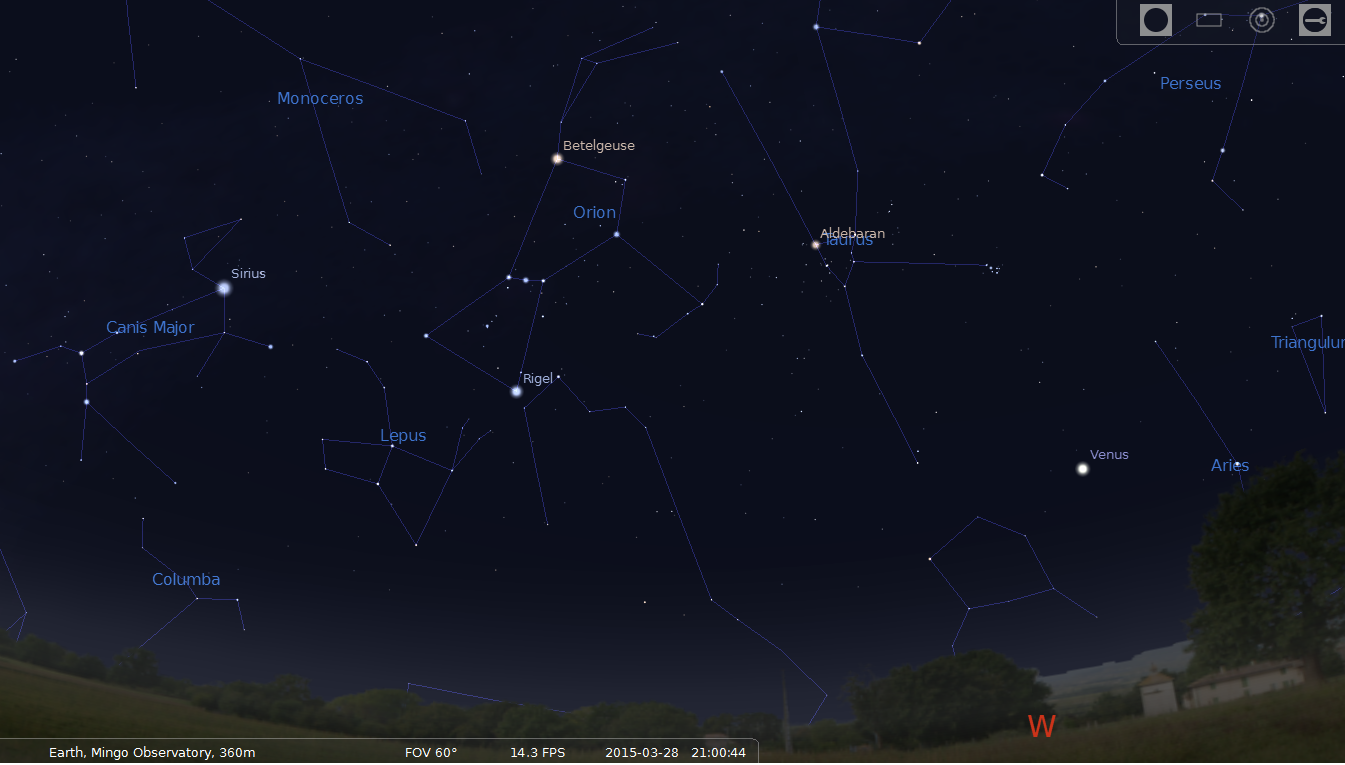 The AMATEUR ASTRONOMERS ASSOCIATION OF PITTSBURGH is pleased to invite you to the Wagman Observatory and to the Mingo Creek County Park Observatory for the Kick-Off of the 2015 Star Party Season. New this year is enhanced solar observing at both facilities and digital screen upgrades inside of both facilities. The first star party weekend is Friday and Saturday March 27 and 28, 2015   . There are star parties at both Wagman and MIngo Observatories.
MINGO CREEK PARK OBSERVATORY – STAR PARTIES. March 27 and 28, 2015  SUITABLE FOR ALL AGES. See stars,galaxies, nebula, planets, Moon, meteors,and more, up close through our 10″ and 24″ fixed telescopes and members telescopes on the hill. Conditions permitting possible solar view with new Lunt solarscope! Haddad Planetarium offers lectures, movies, sky shows. Solar Viewing begins at 4:00 PM Conditions Permitting. 7:00 PM – 11:00 PM End time depending on conditions. Donations gladly accepted. Address: 1 Shelter 10 Road, Nottingham Township, PA 15301 40.2110 N, 80.0190 W   For more information and group pre-registration, 724-384-6150 or MingoSPCoordinator@3ap.org.
 MARCH 28, 2015 8:30 PM – 9:30 PM EARTH HOUR MINGO OBSERVATORY will host a special Earth Hour program focused on dark skies, light pollution and astrophotography.
WAGMAN OBSERVATORY STAR PARTIES start 7:40 PM EDT Saturday, March 27 and 28 at Nicholas E. Wagman Observatory in Deer Lakes Regional Park, Frazer Township, Pa., near the village of Russellton in northeastern Allegheny County and some 18 miles from Pittsburgh.
This is an opportunity for amateur astronomers, students and the general public to observe the wonders of the spring sky and say good-bye to some of the Winter Constellations. Visitors will have an opportunity to observethe Moon shortly after First Quarter, and the bright planets, Venus and Jupiter.
Did you get a telescope recently and don't know how to use it? Bring it along and members of the AAAP will help!
Looking to buy a telescope, accessories, star charts and books? Wagman Observatory is the place to start. We'll have free handouts, guides and booklets to point visitors in the right direction.
The Star Party will be held WEATHER PERMITTING. The public should call 724-224-2510 for more information.