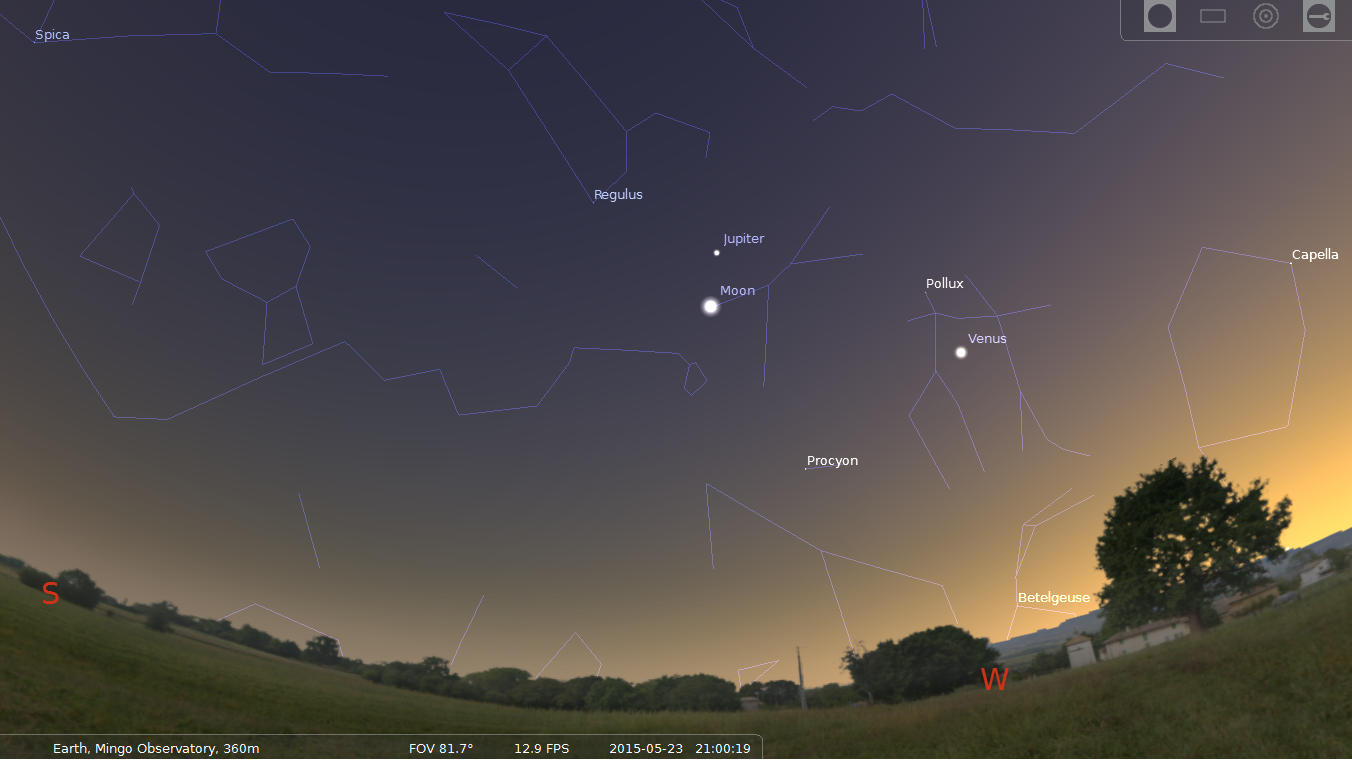 The May Wagman Star Parties and the May Mingo Star Parties will be on May 22 and 23, 2015. Arrive early to see the evening planets. Please plan on sticking around for the darkening of the sky when dimmer objects brighten. The  Stellarium screen capture depicts the sky looking west at 9 PM. These star parties  present an opportunity to observe other wonders of the Spring sky such as the galaxies in the Coma-Virgo Cluster, planetary nebulae and star clusters.
Did you get a telescope recently and don't know how to use it? Bring it along and members of the AAAP will help!
Looking to buy a telescope, accessories, star charts and books? Our star parties are the place to start. We'll have free handouts, guides and booklets to point visitors in the right direction. Admission is free, though we gladly accept donations to cover the cost of operation.
Stars do not "come out" until after sunlight fades from view.  The sun does not set this weekend until approximately 8:10 PM and darkness does not descend until approximately one hour later.   Please use parking lights only  when you drive through the Wagman gate or pass Shelter 10 approaching Mingo Observatory. Drive very slowly and cautiously.There is no  alcohol or tobacco permitted on  the observatory grounds. We suggest you bring bottled water.  There is no running water on either site. There are park style restroom facilities. Dress warmly as springtime nights can be quite chilly afer the sun goes down.
Mingo Observatory
Mingo Creek Park Observatory,1 Shelter 10 Road, Finleyville, PA  15332 Phone 724-348-6150 This address does not lend to mapping.  Please use the GPS Coordinates. GPS coordinates are Latitude 40*:12′:42″ Longitude 80*:01′:14″ or Latitude 40.211degrees, Longitude -80.020 degrees. Declination -9 degrees.  For directions and information about the Mingo Observatory visit<a title="Mingo Observatory" href="https://wp.me/P46Qqk-18″ target="_blank">  https://wp.me/P46Qqk-18 </a> .
Open Rain or shine, cloudy or clear! Planetarium Schedule: 7:00 PM: Sky Show, 8:00 PM: Program TBA  9:00 PM: Sky Show, 10:00 PM: Program TBA.
View the Sun early with our 4″ Lunt Solar Telescope and then see wonders of the night sky through our 24 inch Ritchey-Chretien Reflector and 10 inch Refractor telescopes, sky conditions permitting.
No ISS Passes to be seen this weekend. ISS is not to return to our night skies until May 30, 2015.
Iridium Flares for Mingo Observatory
None for Friday.  Two for Saturday:
May 24, 22:01:200.911°347° (NNW)Iridium 75138 km (E)-5.4-14°
May 24, 22:50:59-0.711°275° (W)Iridium 66168 km (E)-5.8-20°
Wagman Observatory
Wagman Observatory,  225 Kurn Road, Tarentum, PA 15084  Phone 724-224-2510 Latitude 40.627 degrees, Longitude -79.813 degrees
This event is scheduled for Friday and Saturday, May 22 and 23 starting at 8:35 PM EDT. The Nicholas E. Wagman Observatory is located in Deer Lakes Regional Park, Frazer Township, Pa., near the village of Russellton in northeastern Allegheny County and some 18 miles from Pittsburgh. This is an opportunity for amateur astronomers, students and the general public to observe the wonders of the Spring sky such as the galaxies in the Coma-Virgo Cluster, planetary nebulae and star clusters. The Star Parties will be held WEATHER PERMITTING. The public should call 724-224-2510 for more information.
Rise & Set Pittsburgh, Pennsylvania for 2015-05-22
http://www.almanac.com/astronomy/rise/PA/Pittsburgh/2015-05-22
Friday, May 22, 2015
Body
Dawn
Breaks
Rises
Sets
Dark
Descends
Day
Length
Sun
4:01 A.M.
5:57 A.M.
8:36 P.M.
10:32 P.M.
14:39
Moon
10:12 A.M.
Next Day
Mercury
6:39 A.M.
9:29 P.M.
Venus
8:52 A.M.
12:09 A.M.
Mars
6:19 A.M.
9:06 P.M.
Jupiter
11:29 A.M.
1:38 A.M.
Saturn
8:21 P.M.
6:19 A.M.
Uranus
4:06 A.M.
4:57 P.M.
Neptune
2:35 A.M.
1:39 P.M.
Pluto
11:35 P.M.
9:15 A.M.
All times are Eastern Daylight Time at sea level.
"Dawn Breaks" and "Darkness Descends" values are based on astronomical twilight (not civil twilight).