Amateur Astronomers Association of Pittsburgh invites you to celebrate Mingo Observatory's 10 Year Anniversary at the August 14 and 15, 2015 Star Parties. Mingo Observatory, Mingo Creek County Park (Map),  1 Shelter 10 Road Finleyville, PA 15332 ~ 724-348-6150 ~ Latitude 40.211 degrees Longitude -80.020 degrees,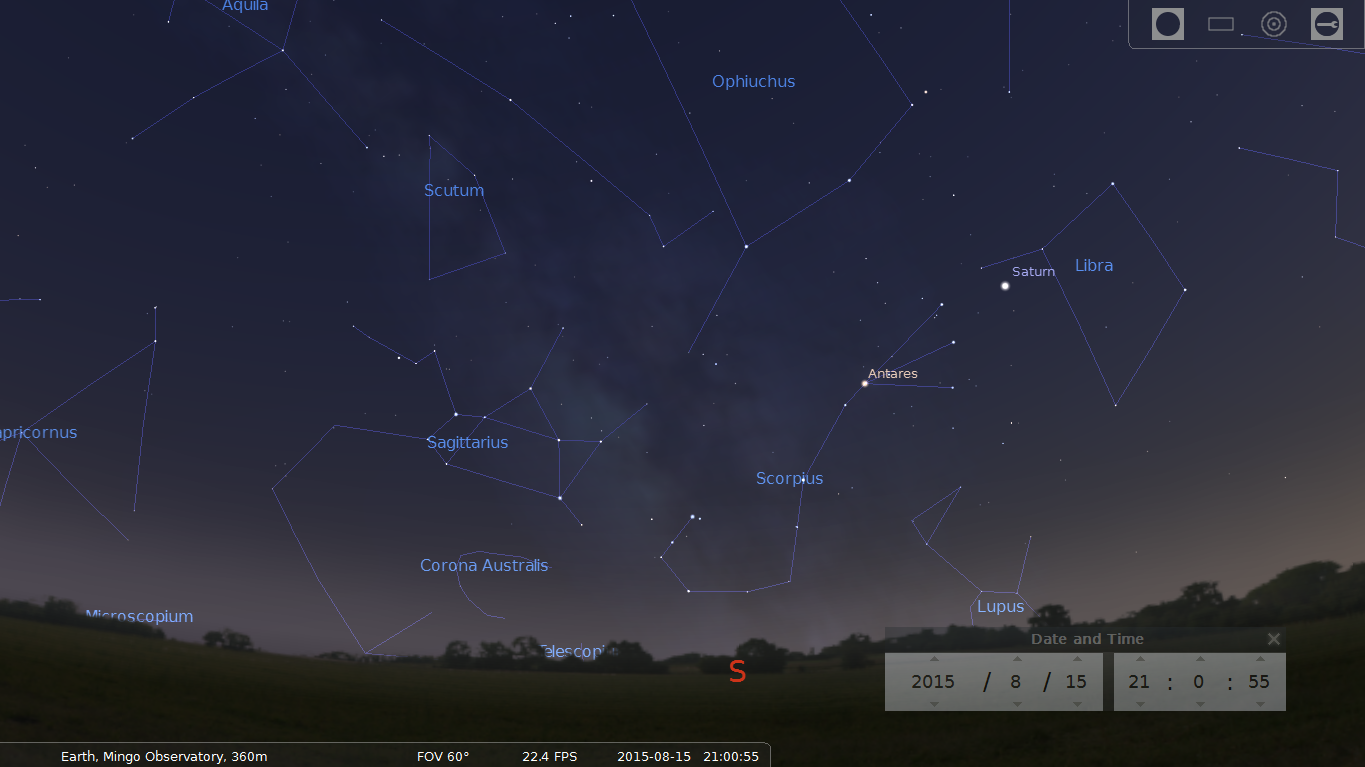 Join us Friday 14-Aug-2015 for our regular public Star Party and Saturday 15-August-2015 for the 10 Year Celebration and Star party.
Come celebrate with us the 10 years of our public outreach to Washington and surrounding counties. Learn about Mingo Observatory, The Amateur Astronomers Association of Pittsburgh, and South West Pennsylvania's rich history in the field of Astronomy, both Amateur and Professional.
The weather and moon phase are looking good. Beautiful ringged Saturn will be in the South  West and Perseid Meteors will fly in the sky amongst the twinkling stars.
At 5:30p.m. and Weather permitting we will be offering SAFE Solar viewing through our 4" Lunt Hydrogen Alpha Telescope mounted on the 10" D & G Refractor also set up for  SAFE Solar viewing in white light.
At 6:00p.m. Enjoy Sky Shows and Public Lectures (rain or shine) in the Richard Y. Haddad Planetarium.
Then at Dusk and weather permitting we will open our 24" Optical Guidance Systems Reflector and the 10" D & G Refractor to viewing wonders of the night sky. See the rings of Saturn. Enjoy views of Star Clusters, Nebulae, Galaxies.  See Double and Multiple Star Systems. Possible left over  appearances  of  Meteors from the Perseid Meteor Shower that peaks on the night of the 12th of August.
Enjoy Question and Answer sessions with our many talented and knowledgeable Staff members who are versed in many areas of Amateur Astronomy from Astro-Photography, Stellar Evolution, Planetary Sciences, Telescope Making and Optics, Atmospheric Phenomena, as well as Theory and History.
The Mingo Creek Park Observatory  is Handicap Accessible. 
There is no charge for your visit, but we gladly accept donations to cover operating expenses.
There is no reservation needed and there is no limit to group size. It helps to plan for visits by organizations and we encourage those groups to call ahead.
Mingo Creek Park Observatory is operated  by an All Volunteer Staff of members of The Amateur Astronomers Association of Pittsburgh. Please learn more about the MCPO and the AAAP at wwwdot3apdotOrg 
Most of the above is from Ken's Mingo Email Blast. Would you like to receive occasional emails about Mingo Observatory Star Parties and Observing Events?  Be sure to sign up at the Mingo Observatory Reception Desk or contact  Ken, MingoAssocDirector2@3ap.org .
Safety and Smoke Free
There is no smoking (It fouls the telescope optics.) or alcohol permitted anywhere on the observtory grounds.  Please drive slowly and carefully.  Parking is available at the bottom of the observing hill and along the drive up. Handicapped spaces are available next to the building.  The outdoor (handicapped accessible) park style restroom is to the side of the handicapped parking parking. Members tailgate  there personal telescopes from their vehicles the length of the hill, inviting guests to share views. Guests may wish to park at the bottom and walk up the hill visiting the member telescopes along the way.
Dark Sky Protocol
Guests travel to Mingo Observatory partly in search of dark skies. Car lights and flashlights can defeat the purpose for a dark site, by ruining night vision.  Please keep dark sky protocol in mind and limit the use of car lights and flashlights. If you car does not allow you to drive without bright illumination, you may consider the benefit of parking in the lower area where theywill not bother other guests and walking up.
Children Under Control and Supervison of Parent at All Times
Childen must be under control and supervision of a parent at all times. Running and boisterous conduct would not be safe and would disturb other guests.
Have your own telescope?
Guests are invited to set their telescopes up on the hill, too.  Have a telescope at home you do not know how to use? Bring it along and come out early to ask any member for assistance.  If they cannot help you they will find someone who can. Your binoculars will be useful to bring along, too.  If you want to bring a flashlight, red ones are preferred.  A piece of red plastic, cellophane or dollar store table cloth with a rubber band makes a good cover.
Reception Desk
Please sign-in at the reception desk and share the number in your party and your zipcode. This helps us to track participation and in applications for funding. At the Reception Desk guests can also sign up for the Mingo Email Blast.
See you this weekend. The weather is looking good! Prepare to be amazed!
~~~~~~~~~~~~~~~~~~~~~~~~~~~~~~~~~~~~
Sky Conditions
Mingo Creek Park Observatory Clear Dark Sky Chart
~~~~~~~~~~~~~~~~~~~~~~~~~~~~~~~~~~~~~~
What's up in the sky?  Our members will help guest to see ISS Passes and Iridium Flares when visible and to point out planets and constellations. Here is   some data for the weekend.  There are many good websites and programs as well as books available with similare information.
Saturday, August 15, 2015  Rise and Set for Sun, Moon, Planets
From: http://www.almanac.com/astronomy/rise/PA/Pittsburgh/2015-08-15
Body
Dawn
Breaks
Rises
Sets
Dark
Descends
Day
Length
Sun
4:49 A.M.
6:31 A.M.
8:17 P.M.
9:59 P.M.
13:45
Moon
7:29 A.M.
8:43 P.M.
Mercury
8:15 A.M.
9:11 P.M.
Venus
6:51 A.M.
7:38 P.M.
Mars
4:56 A.M.
7:28 P.M.
Jupiter
7:14 A.M.
8:41 P.M.
Saturn
2:32 P.M.
12:33 A.M.
Uranus
10:31 P.M.
11:29 A.M.
Neptune
8:55 P.M.
8:01 A.M.
Pluto
5:54 P.M.
3:31 A.M.
All times are Eastern Daylight Time at sea level.
"Dawn Breaks" and "Darkness Descends" values are based on astronomical twilight (not civil twilight).
~~~~~~~~~~~~~~~~~~~~~~~~~~~~~~~~~~~~
ISS Visible Passes  Auguat 9 – 18, 2015
From: http://www.heavens-above.com/PassSummary.aspx?satid=25544&lat=40.211&lng=-80.019&loc=Mingo+Creek+Park+Observatory&alt=0&tz=EST
Date
Brightness
Start
Highest point
End
Pass type
(mag)
Time
Alt.
Az.
Time
Alt.
Az.
Time
Alt.
Az.
09 Aug
0.1
00:02:31
10°
NNW
00:02:54
12°
NNW
00:02:54
12°
NNW
visible
09 Aug
-0.3
21:33:16
10°
NNW
21:34:23
11°
N
21:35:29
10°
NNE
visible
09 Aug
-0.6
23:09:39
10°
NNW
23:11:32
16°
N
23:11:32
16°
N
visible
10 Aug
-0.5
22:16:45
10°
NNW
22:18:25
13°
NNE
22:20:07
10°
NE
visible
10 Aug
0.1
23:52:27
10°
NW
23:52:45
12°
NW
23:52:45
12°
NW
visible
11 Aug
-0.5
21:23:44
10°
NNW
21:24:57
12°
N
21:26:11
10°
NNE
visible
11 Aug
-1.0
22:59:29
10°
NNW
23:01:24
22°
N
23:01:24
22°
N
visible
12 Aug
-1.1
22:06:34
10°
NNW
22:08:53
18°
NNE
22:10:03
15°
NE
visible
12 Aug
0.1
23:42:25
10°
NW
23:42:38
11°
NW
23:42:38
11°
NW
visible
13 Aug
-0.7
21:13:38
10°
NNW
21:15:25
14°
NNE
21:17:15
10°
NE
visible
13 Aug
-1.5
22:49:20
10°
NW
22:51:18
30°
NNW
22:51:18
30°
NNW
visible
14 Aug
-1.8
21:56:19
10°
NW
21:59:10
28°
NNE
22:00:00
24°
NE
visible
15 Aug
-1.2
21:03:20
10°
NNW
21:05:46
19°
NNE
21:08:14
10°
ENE
visible
15 Aug
-1.8
22:39:15
10°
NW
22:41:18
35°
WNW
22:41:18
35°
WNW
visible
16 Aug
-3.0
21:46:04
10°
NW
21:49:17
53°
NNE
21:50:03
41°
E
visible
17 Aug
-2.0
20:53:00
10°
NW
20:55:57
31°
NNE
20:58:50
10°
E
visible
17 Aug
-1.5
22:29:25
10°
WNW
22:31:25
26°
WSW
22:31:25
26°
WSW
visible
18 Aug
-3.2
21:35:57
10°
WNW
21:39:11
64°
SW
21:40:15
37°
SSE
visible
~~~~~~~~~~~~~~~~~~~~~~~~~~~~~~~~~~~~
~~~~~~~~~~~~~~~~~~~~~~~~~~~~~~~~~~~~~
Early Morning Iridium Flares (No nightime flares, visible at this time at Mingo Observatory.
From: http://www.heavens-above.com/IridiumFlares.aspx?lat=40.211&lng=-80.019&loc=Mingo+Creek+Park+Observatory&alt=0&tz=EST
Search period start:

13:49 Sunday, 9 August, 2015

Search period end:

13:49 Sunday, 16 August, 2015
Clicking on the time of the flare will give more details about the flare, including a sky chart.
| | | | | | | | |
| --- | --- | --- | --- | --- | --- | --- | --- |
| Time | Brightness | Altitude | Azimuth | Satellite | Distance to flare centre | Brightness at flare centre | Sun altitude |
| Aug 10, 03:12:43 | -6.0 | 10° | 305° (NW) | Iridium 66 | 1 km (E) | -6.0 | -29° |
| Aug 10, 06:00:54 | -5.5 | 68° | 210° (SSW) | Iridium 30 | 7 km (E) | -8.5 | -5° |
| Aug 11, 03:06:35 | 0.3 | 10° | 306° (NW) | Iridium 21 | 128 km (E) | -6.0 | -30° |
| Aug 11, 05:54:52 | 0.8 | 69° | 206° (SSW) | Iridium 57 | 44 km (E) | -8.5 | -6° |
| Aug 14, 05:45:50 | -0.9 | 63° | 225° (SW) | Iridium 91 | 27 km (W) | -8.5 | -9° |
| Aug 15, 05:39:42 | -1.7 | 62° | 227° (SW) | Iridium 59 | 21 km (W) | -8.5 | -10° |
| Aug 16, 05:33:41 | -1.9 | 63° | 225° (SW) | Iridium 95 | 21 km (E) | -8.5 | -11° |