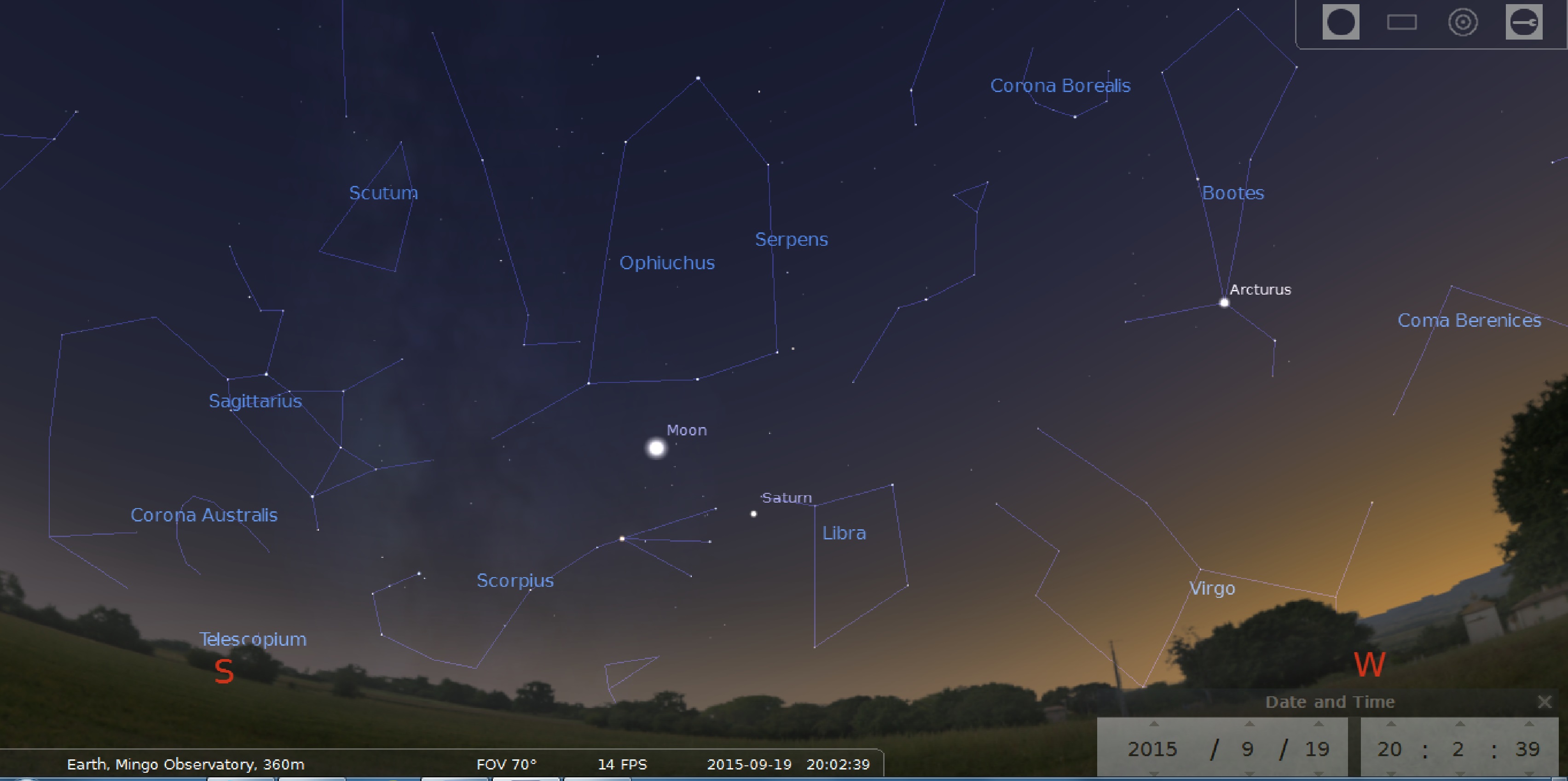 The members of the Amateur Astronomers Association of Pittsburgh invite the public to Mingo Observatory and Wagman Observatory, Saturday, September 19, 2015. Enjoy the clear skies of late summer.
It is our partner the Astronomical League's Fall Astronomy Day and International Observe the Moon Night.
Download Moon Maps for International Observe the Moon Night: http://www.lpi.usra.edu/observethemoonnight/materials/2015/InOMN-Map2015.pdf
Did you get a telescope recently and don't know how to use it? Bring it along and members of the AAAP will help!
Looking to buy a telescope, accessories, star charts and books? We'll have free handouts, guides and booklets to point visitors in the right direction. Enjoy questions and answers with our talented and knowledgeable staff. Staff members are versed in many areas of amateur astronomy: astrophotography, radio astronomomy,stellar evolution, planetary sciences, telescope making and optics, atmospheric phenomena, theory, history, etc.
See the AAAP web page for more info at: www.3ap.org and the AAAP Facebook Page: https://www.facebook.com/pages/Amateur-Astronomers-Association-of-Pittsburgh/114188205266611
If new to star gazing in company reading Star Party Etiquette from the folks who bring us the Cherry Spring Star Party is suggested. It provides valuable tips on how to make your evening experience even better. There is no alcohol or tobacco permitted on the observatory grounds nor inside the observatory buildings. There are park style restroom buildings, but no running water. Please drive slowly and carefully watch for pedestrians. When walking or watching the stars please situate away from automobile traffic and be alert for moving vehicles.
Check for updates and see the Guide Star AAAP Newsletter and  AAAP Facebook Page.
September Skymaps:
http://www.skymaps.com/skymaps/tesmn1509.pdf
http://www.almanac.com/sites/new.almanac.com/files/skymap_september2015_printable.pdf
 ~~~~~~~~~~~~~~~~~~~~~~
Mingo Observatory
Remember Setember 19 and 20, 2015 are the Covered Bridge Festival Days. Enjoy Safe Solar Obeserving (weather  http://visitwashingtoncountypa.com/CustomPage.aspx?Name=44thcoveredbridgefestival.aspxpermitting)  at 5:30 p.m.  SAFELY View the Sun early with our 4″ Lunt Solar (Hydrogen Alpha)  Telescope. Planetarium Shows (rain or shine) beginning at 6:30 p.m. The September 19 Star Party includes the added benefit of the coinciding with the 44th Annual Covered Bridge Festival taking place inside of Mingo Park. The festival concludes at 5:oo PM.  Guests may wish to arrive early to the park and enjoy both events. Typical Planetarium Schedule: 7:00 PM: Sky Show, 8:00 PM: Program TBA  9:00 PM: Sky Show, 10:00 PM: Program TBA   Celestial Observing (weather permitting) beginning at Dusk. See wonders of the night sky through our 24 inch Optical Guidance Systems  Ritchey-Chretien Reflector and 10 inch D & G Refractor telescopes. Observe Double-stars,  planetary nebulae, astonishing star clusters, distant galaxies.  The Planets Saturn and its rings, Uranus, Neptune and Pluto! ). Telescope viewing is conditions permitting. Mingo Creek Park Observatory is Open Rain or shine, cloudy or clear!
Call Mingo at 724-348-6150.
GPS coordinates are Lat 40*:12′:42″ Long 80*:01′:14″
Students, scouts, youth groups, adults, and children accompanied by adults are welcome. If you know others who would be interested in receiving these notices, please register for the Mingo Email Blast.** Mingo Observatory Email BlastWould you like to receive occasional emails about Mingo Observatory Star Parties and Observing Events?  Be sure to sign up at the Mingo Observatory Reception Desk or contact  MingoAssocDirector2@3ap.org.Mingo Creek Park Observatory is Handicapped Accessible.
Heavens-Above for Mingo Obsevatory There is are no visible ISS Passes Saturday night but there is an Ir Flare at 8:48 PM. For more information, please take the Heaven-Above link.
~~~~~~~~~~~~~~~~~~~~~~
Wagman Observatory
225 Kurn Road Tarentum, PA 15084 ~ 724-224-2510 ~ Latitude 40.627 degrees Longitude -79.813 degrees
Come see the planets Saturn, Neptune and Uranus and the Moon one and a half days before First Quarter. It's all part of the show during the September Star Party sponsored by the Amateur Astronomers Association of Pittsburgh.
Observe the Hercules Cluster, the Ring Nebula and the Andromeda Galaxy. This event is scheduled for Saturday, September 19 starting about 7:25 PM EDT.
The Nicholas E. Wagman Observatory is located in Deer Lakes Regional Park, Frazer Township, Pa., near the village of Russellton in northeastern Allegheny County and some 18 miles from Pittsburgh.  Nearly 62,000 people have visited the observatory since its opening in 1987. Come and see what they've discovered and you've been missing.  This event is scheduled for Saturday, October 3  starting about tba PM EDT. The Wagman Star Parties will be held WEATHER PERMITTING. The public should call 724-224-2510 for more information.
Admission is free, though we gladly accept donations to cover the cost of operation. To reach Wagman Observatory, follow the Orange Belt (accessible from Routes 8 and 28) to Deer Lakes Park, near Russellton. Follow the road through the Park for 1.2 miles and turn left on to the Observatory grounds. Please use parking lights only when you drive through the gate.
For additional directions or to check on the weather conditions, please call the observatory at 724-224-2510. If you get our voice mail or a busy signal, keep trying. We receive many calls for information just before and during the star parties._Wagman_Sched_2015
Take this link for Heavens-Above for Wagman Observatory to see Iridium Flare or ISS times.