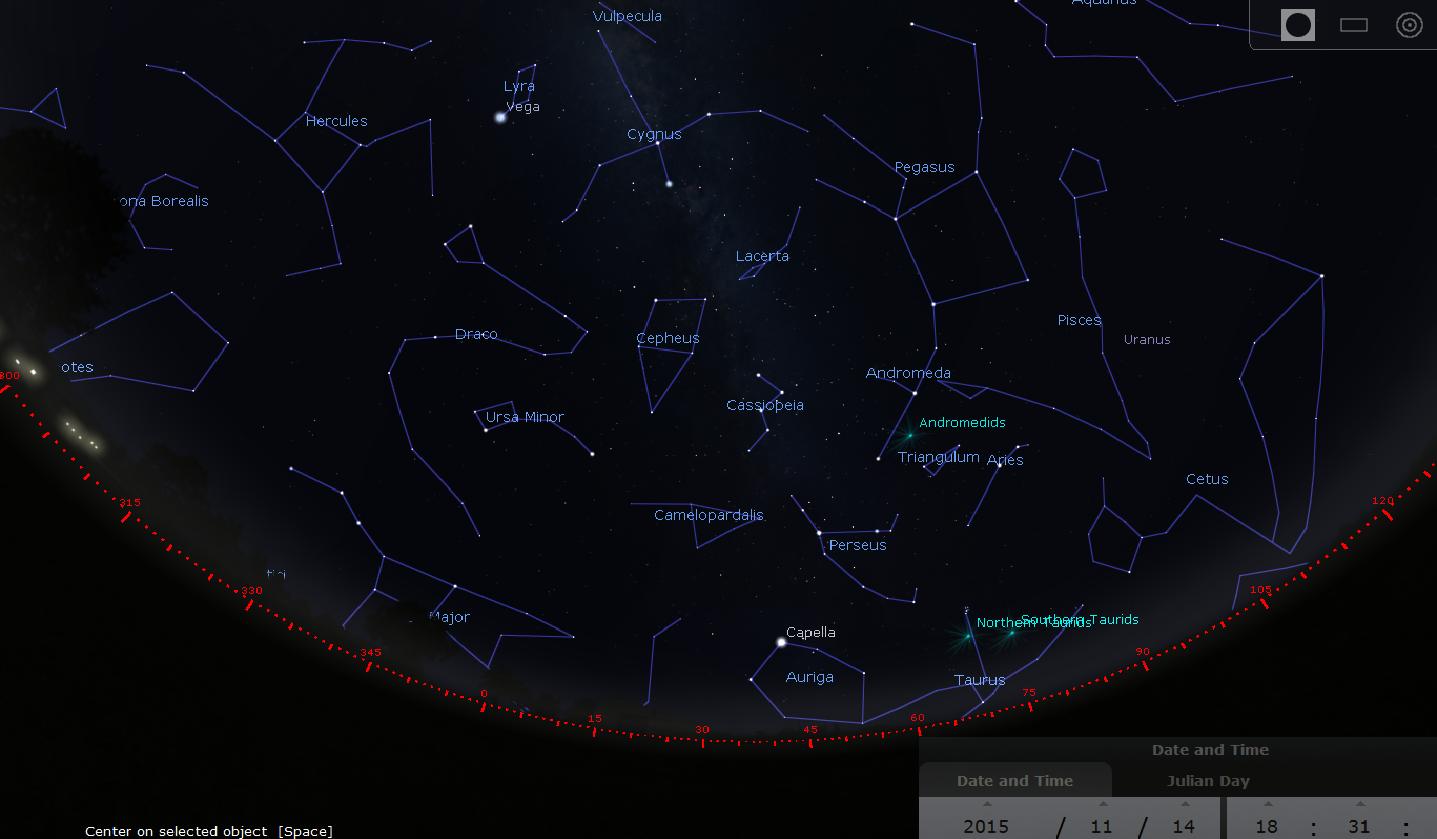 It is you last chance in 2015 to view Late Autumn sky with the Amateur Astronomers Association of Pittsburgh at the Mingo Observatory Bundle Up Starfest, Saturday, November 14, 2015.  Address: Mingo Observatory, 1 Shelter 10 Road, Nottingham Township, PA 15301 40.2110 N, 80.0190 W Donations Accepted  For more information and group pre-registration, 724-384-6150 or MingoSPCoordinator@3ap.org.
Mingo Observatory will open at 4:00 p.m. for SAFE Solar viewing through our 4" Lunt Hydrogen Alpha Telescope mounted on the 10" D & G Refractor also set up for  SAFE Solar viewing in filtered white light. As dark descends and weather permits we will open our 24" Optical Guidance Systems Reflector and the 10" D & G Refractor to viewing wonders of the night sky. Enjoy views of Star Clusters, Nebulae, Galaxies,Double and Multiple Star Systems.  Our Richard Y. Haddad Planetarium opens at 6:30p.m. rain or shine for Sky Shows, Movies and Lectures.
There is no reservation needed and there is no limit to group size. If you contact us in advance we can better receive your scout groups. Mingo Creek Park Observatory is operated by all Volunteer Staff Members of The Amateur Astronomers Association of Pittsburgh. The Mingo Creek Park Observatory  is Handicap Accessible. There is no charge for your visit, but we gladly accept donations to cover operating expenses.
Please check back for news of next year's star party schedule, facility and equipment improvements and possible celestial viewing events in the months before spring when we begin the 2016 Public Star Party Season.
Updates here and on AAAP's Facebook Page .
Obrital Test Vehicle (OTV), Iridium Flare, and Hubble Space Telescope.  There are no visible ISS Passes this evening.
Date
Brightness
Start
Highest point
End
Pass type
(mag)
Time
Alt.
Az.
Time
Alt.
Az.
Time
Alt.
Az.
14 Nov
0.9
18:16:01
10°
WSW
18:18:50
48°
S
18:19:55
30°
ESE
visible
Iridium Flare
Time
Brightness
Altitude
Azimuth
Satellite
Distance to flare centre
Brightness at flare centre
Sun altitude
Nov 14, 17:55:57
-2.0
35°
188° (S)
Iridium 22
20 km (W)
-7.3
-10°

 
Hubble Space Telescope
Date
Brightness
Start
Highest point
End
Pass type
(mag)
Time
Alt.
Az.
Time
Alt.
Az.
Time
Alt.
Az.
14 Nov
3.1
18:16:31
10°
SW
18:19:03
16°
S
18:21:35
10°
SE
visible
DIRECTIONS:
Note:  Route 88 is open between Patterson and Ginger Hill Roads where it had been closed since September.

Accuweather Astronomy post http://www.accuweather.com/en/us/pittsburgh-pa/15219/astronomy-weather/1310 as referenced in the above image is "Very Good" for tonight's Bundle Up Star Fest.
Take some of these links to other forecasts or share your favorite forecast here in the comments.
Pittsburgh, PA Weekend Weather Forecast:
1. https://3ap.org/resources/weather/ ,
2. http://www.accuweather.com/…/pi…/15219/weather-forecast/1310 ,
3. http://clearoutside.com/forecast/40.44/-79.98,
4. http://www.erh.noaa.gov/pit/ ,
5. http://weather.unisys.com/forecast.php?Name=15219
6. http://weather.pittsburgh.cbslocal.com/US/PA/Pittsburgh.html
7. http://www.wpxi.com/s/weather/
8. http://www.wtae.com/weather
9. http://www.weather.com/