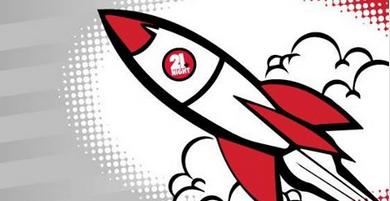 Meet with AAAP president and interested AAAP members tonight January 15, 2016, 6-10 PM, at 21+Rocket Science at Carnegie Science Center.  Just drop in no reservation needed.  Guests may purchase tickets from the CSC website or at the door.  Guests should see CSC for more info. AAAP members can check with the AAAPgh List and or club officers. AAAP supports CSC and holds many of its monthly meetings at the Science Center. This is a great opportunity to share club and astronomy information with the public and to promote the Carnegie Science Center.
Carnegie Science Center plans an unforgetable evening exploring the Space Race and Rocket Science teaming up with the City Theatre to present present scenes from the world premiere of "Some Brighter Distance," which explores the true story of Arthur Rudolph, a German rocket scientist who helped American win the space race before being cast out of the country. Preview scenes from the play even before its theatrical debut on Jan. 23. Actors will perform under the stars in the Buhl Planetarium; a planetarium show will follow the performance.
Bring your questions for a Q-and-A session with some of the cast and crew and astronomers to learn about this important time in American history.
All that, plus explosive demonstrations in the Works Theater, design and launch your own straw-rocket, ride on the zero-gravity simulator, build a space shuttle glider and in the Science Stage, watch vintage films depicting what people thought space travel would be like in the future.*
Also, if in town earlier in the day enjoy AAAP Member Bill Snyder's Astrophotography  Exhibit in the Conney M. Kimbo Gallery at the University of Pittsburgh, there from January  11th to 22, 2016. Hours: Monday 10 a.m.–5 p.m.; Tuesday–Thursday 10 a.m.–6 p.m.; Friday 10 a.m.–5 p.m.; Saturday noon–5 p.m.
~~~~~~~~~~~~~~~~~~~~~~~~~~~~~~~~~~~~~~~
Updates and additional astronomy and AAAP information on AAAP's Facebook Page.

Respectfully submitted, Kathy DeSantis.