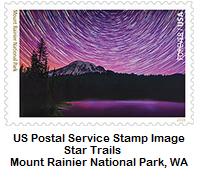 US Postal Service Star Trails at Mt. Rainier Stamp image released today features AAAPer Matt Dieterich's stunning Astrophotograph of star trails over Mt. Rainier.
In the USPS Press Release today, Mr. Dieterich is quoted:
"This night was one I will never forget," said Dieterich, who worked at Mount Rainier as an intern with the National Park Service Geoscientist-in-the-Parks to educate the public on dramatic views of the stars and the effect of light pollution near highly populated areas. "After working with visitors at the Mount Rainier astronomy program on June 22, 2015, I noticed there was an aurora, so I drove down to Reflection Lake to capture it."
"The location was perfect as it contained a view of Mount Rainier and water for reflections," he continued. "To create this star trails image I took 200 photos in a two-hour window between 2 a.m. and 4 a.m. with my Nikon D750 and 24mm lens set at F/1.4 and ISO 5000. Since the Earth is rotating, each 8-sec. exposure shows stars at slightly different locations. When the photos are combined into one image the stars create a circular pattern around the North Star, which is just out of view at the top of the image. The pink aurora spread throughout the background sky. Mountaineers can be seen with their white headlamps climbing Mount Rainier on the right side of the volcano."
"To capture star trails photos just like this," he added, "all you need is a digital single lens reflex camera, a wide angle lens, tripod and shutter release cable. So what are you waiting for? Grab your gear and get out under the stars!"
Matt you make AAAP very proud and thrill us as you often share with us your skills and joy in astrophotography. Thank you for going on to spread our shared love of astronomy far afield.
The stunning US Postal Service Star Trails at Mt. Rainier Stamp is the 13th of 16 Forever Stamp images to be released over a three-week period in conjunction with the National Park Service 100th Anniversary celebration. Matt's stamp will go on sale in June. Look for a June 2 first-day-of-issue ceremony for the National Parks Forever Stamps pane at New York City's Javits Center  as part of the world's largest stamp show that only takes place in the United States once a decade, World Stamp Show-NY 2016.  Matt indicates he would be honored to make himself available to club members after the stamp release as he will do Friday evening 6 – 9 PM, April 22, 2015 at the Art and Local Market Place, West Lobby, David L Lawrence Convention Center, Pittsburgh, PA. Astrophotographs of Matt Dieterich and those of AAAPer Bill Snyder will be displayed there as part of the Pittsburgh Earth Day celebration.
For more information please check back and follow us on Facebook, via the button below.

Respectfully submitted, Kathy DeSantis.