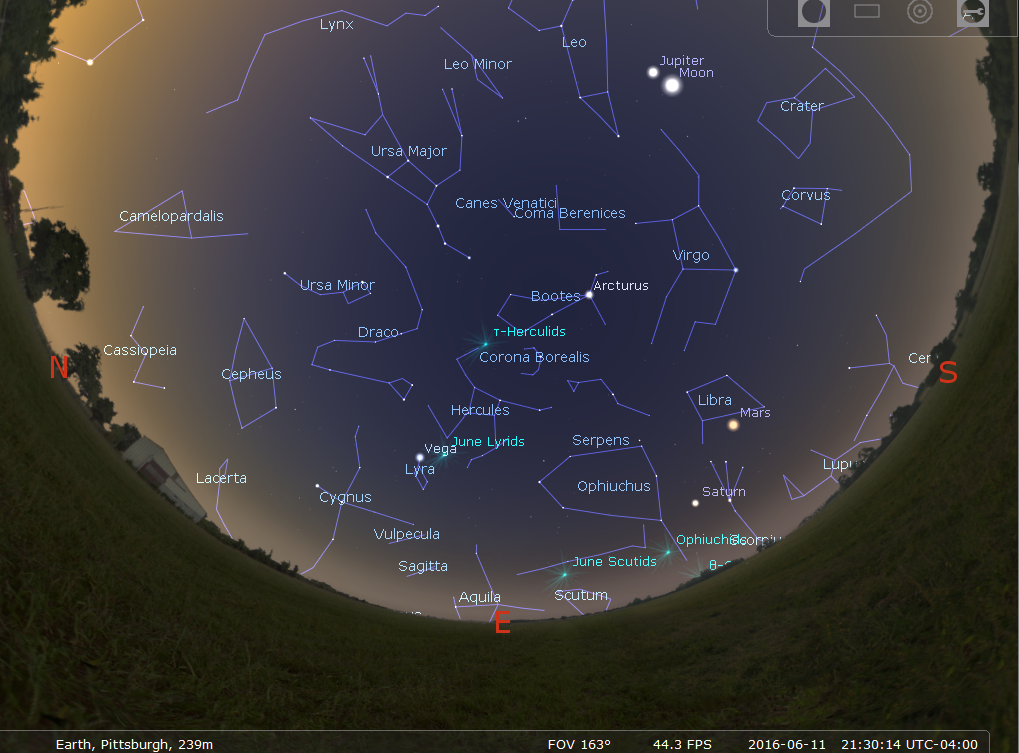 Pittsburgh Sky, East, 9:30 PM. June 11, 2016 from Stellarium.org Screen Capture.
AAAP Star Parties at both Wagman Observatory and Mingo Observatory, Friday and Saturday, June 10 and 11, 2016 will feature a rich array of celestial delights. Bright Jupiter trails close to the First Quarter Moon. Ringed Planet, Saturn follows not far from the Red Planet, Mars. Mars, not long from its May 30 close approach is still prime for viewing . Saturn, too near its June 2-3, 2016 opposition, is prime for its best viewing of the year. Jupiter is up all evening too, along with all four of its moons. Planet Venus, too graces the sky until just before 9 PM. It only begins with the Moon and these four bright planets. Experience the AAAP telescopes and those of our members as they reveal our solar system and more distant objects, including galaxies and nebula. See the sparkling  Great Cluster, M13, in the constellation Hercules and other delights. Look forward to the likelihood of meteor sighting, too. The star parties are free and open to the public.
Wagman Star Parties start Friday, June 10 and Saturday, June 11 at 8:50 p.m. at the Nicholas E. Wagman Observatory in Deer Lakes Regional Park, Frazer Township, Pa., near the village of Russellton in northeastern Allegheny County and some 18 miles from Pittsburgh. Download the Wagman Star Party Brochure here. The Wagman Star Parties will be held WEATHER PERMITTING. The public should call 724-224-2510 for more information. The Mingo Star Parties, about as far south of the City of Pittsburgh in Mingo Creek County Park, between Fallowfield and Nottingham Townships in Washington County will start earlier and feature safe views of the Sun through the Lunt Solar Telescope prior to viewing the darkening sky into nighttime. Additionally, Mingo offers programming in the Richard Y. Haddad Planetarium, sky shows, displays and lectures, in addition to telescope viewing of the night sky.  No reservations.  No charge.  No limit to group size.  Just show up.  Please refer to the Mingo 2016 Star Party Schedule.  Mingo Observatory information at 724-348-6150.
Although admission is free, we gladly accept donations to cover the cost of operation at the observatory entrance desks. There is no smoking or alcohol permitted on our observatory grounds. Please drive slowly and carefully and be aware of pedestrians, especially children. Children must be under direct parental supervision at all times.
Our helpful and informed all volunteer staff will be happy to assist you to gain in knowledge and appreciation of the night sky. Mingo and Wagman Observatories are owned and operated by the Amateur Astronomers Association of Pittsburgh, a 501(3)(c) and your donations are tax deductible.
Directions: To reach Wagman Observatory, follow the Orange Belt (accessible from Routes 8 and 28) to Deer Lakes Park, near Russellton. Follow the road through the Park for 1.2 miles and turn left on to the Observatory grounds. Please use parking lights only when you drive through the gate. To reach Mingo Observatory (Please see Mingo Park Map.) follow Route 88 or Route 136 to signs for Mingo Creek County Park. Inside the park find the Henry Covered Bridge. Across the creek road from the Henry Bridge follow the Mansion Hill road Extension up the hill bearing right at the fork , onto Shelter 10 Road until passing Shelter 10. Then entering the expansive clearing, see to the left, the hilltop and the observatory, a cement block building. Please use parking lights only upon entering the clearing. There is limited handicapped parking at the hilltop. Please park along the observatory road. For additional directions or to check on the weather conditions, please call the observatory at 724-224-2510 for Wagman or 724-348-6150 for Mingo. If you get our voice mail or a busy signal, keep trying. We receive many calls for information just before and during the star parties.
Our next observatory star parties will occur July 8 & 9, 2016 at both Wagman Observatory and Mingo Observatory.

(40.4406°N, 79.9959°W)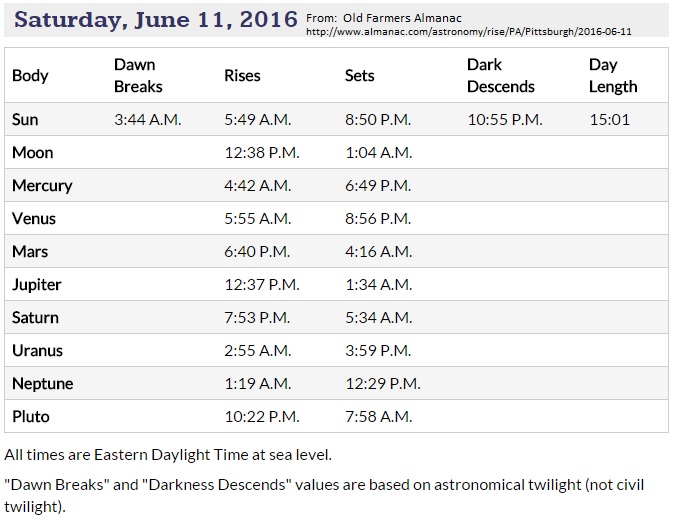 For more information please check back and follow us on Facebook, via the button below.

Respectfully submitted, Kathy DeSantis.