There have been many reports of a shiny object seen over the skies of Pittsburgh on the evening of August 4, 2016. Many members of the Amateur Astronomers Association of Pittsburgh (AAAP) also saw the object while viewing the planetary line-up (Venus, Mercury, Jupiter, Mars, and Saturn). Thanks to AAAP member John Pane, we know that the object was a high-altitude balloon launch as part of Google's Project Loon. The balloon was launched from Washington state and drifted over Pittsburgh at just the right time for it to be illuminated by the sun's last rays while the sky was getting dark.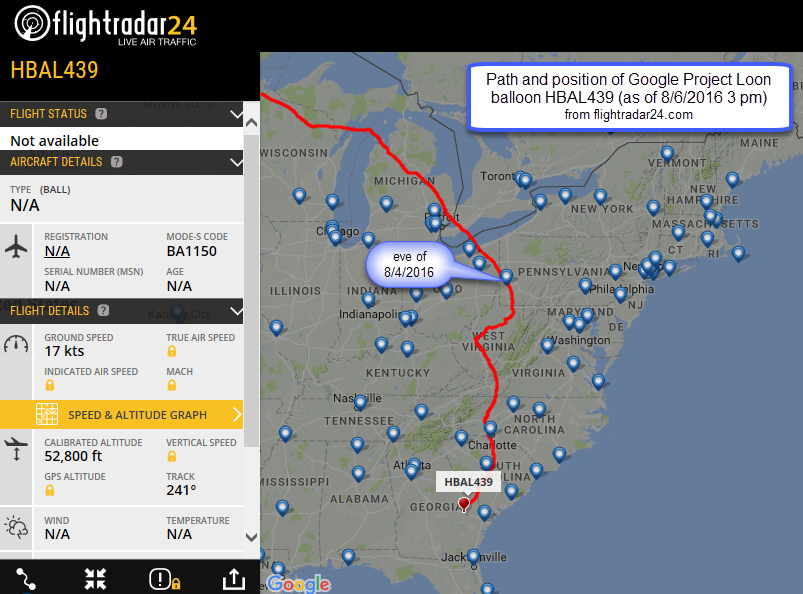 AAAP member John Holtz spotted a balloon shortly after arriving at Schenley Park to look for the planets. He used the positional data from flightradar24.com to calculate the position of the Google balloon as seen from his observing location. "The position relative to the star Arcturus, and the size of the object based on the range, all match what I calculated" he said. At 9 pm, the object was approximately 55,000 feet (10.4 miles) above the ground and 14 miles away. "In 10×50 binoculars, it looked like a big Ring Nebula", referring to the popular deep-sky object also known as M57.
click on image to see the position of the balloon at 8:45 pm (left) and 9:00 pm (right)
AAAP member Michael Lincoln was out looking for weather balloons when he spotted the mystery object. "I looked up and saw a bright light floating high in the NNW sky, and the view through the telescope got me running inside for my camera!" he reported on the association's discussion group. He captured some amazing photographs over the next 2 hours.