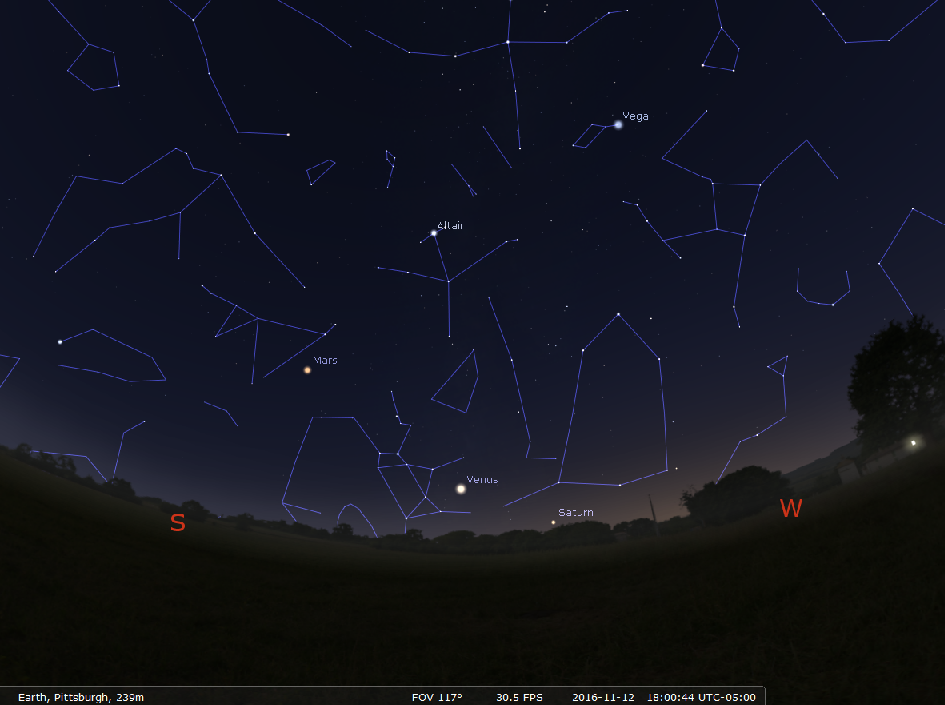 It is your last chance in 2016 to view Late Autumn Sky with the Amateur Astronomers Association of Pittsburgh at the Mingo Observatory Star Party, Saturday, November 12 , 4:00 PM, EST, Safe Solar Observing; and approximately 5:30 PM EST, Night Sky Observing. Mingo Observatory, Mingo Creek County Park, Washington County, PA.,  Address: Mingo Observatory, 1 Shelter 10 Road, Nottingham Township, PA 15301 GPS Coordinates: 40.2110 N, 80.0190 W. PDF of Park map here. From Henry Covered Bridge follow Mansion Hill Road Extension up hill into park to the fork, where Shelter 10 Road branches to the right. Take Shelter 10 Road beyond Shelter 10 dimming lights at  the extensive clearing where atop hill to the left the observatory rests.  Park along the road below the observatory, handicapped parking at top of hill. It is suggested to use GPS coordinates rather than the address in programming a GPS to locate the site. Please call the observatory at 724-348-6150 if needed.   Mingo Creek Park Observatory and its grounds, as a part of Mingo Creek County Park, are a non-smoking and no alcohol permitted area.
Upon opening at 4:00 p.m. guests may experience SAFE Solar viewing through our 4" Lunt Hydrogen Alpha Telescope mounted on the 10" D & G Refractor also set up for  SAFE Solar viewing in filtered white light. At approximately 5:30 PM, as dark descends and weather permits we will open our 24" Optical Guidance Systems Reflector and the 10" D & G Refractor to viewing wonders of the night sky. Enjoy views of Venus, Saturn and its rings, Mars and the craters of the Moon, Star Clusters, Nebulae (Ring Nebula, Orion Nebula, and others), Galaxies, Double and Multiple Star Systems, etc.   Our Richard Y. Haddad Planetarium opens at 6:30p.m. rain or shine for Sky Shows, Movies and Lectures.
The Mingo Creek Park Observatory is accessible to persons with disabilities. Mingo Creek Park Observatory is operated by an all-volunteer staff of members of the Amateur Astronomers Association of Pittsburgh. There is no charge for your visit, but we greatly appreciate donations to help cover operating expenses.  There is no reservation needed and there is no limit on group sizes. The event is held weather permitting. For more information and updates please return here and visit AAAP's Facebook Page .
Please check back for news of next year's star party schedule, facility and equipment improvements and possible celestial viewing events in the months before spring when we begin the 2017 Public Star Party Season. In 2017, the star party dates at Mingo Observatory are: Apr 21 & 22; May 19 & 20; Jun 23 & 24; Jul 14 & 15; Aug 11 & 12; Sep 15 & 16; Oct 14 & 28; Nov 11 . In 2017, the star party dates at Wagman Observatory are: Mar 31; Apr 1; May 5 & 6; Jun 2 & 3; Jun 30; Jul 1, 28, & 29; Aug 25 & 26; Sep 9 & 23; Oct 7 & 28; Nov 4 .
~~~~~~~~~~~~~~~~~~~~~~~~~~~~~~~~~~~~~~~