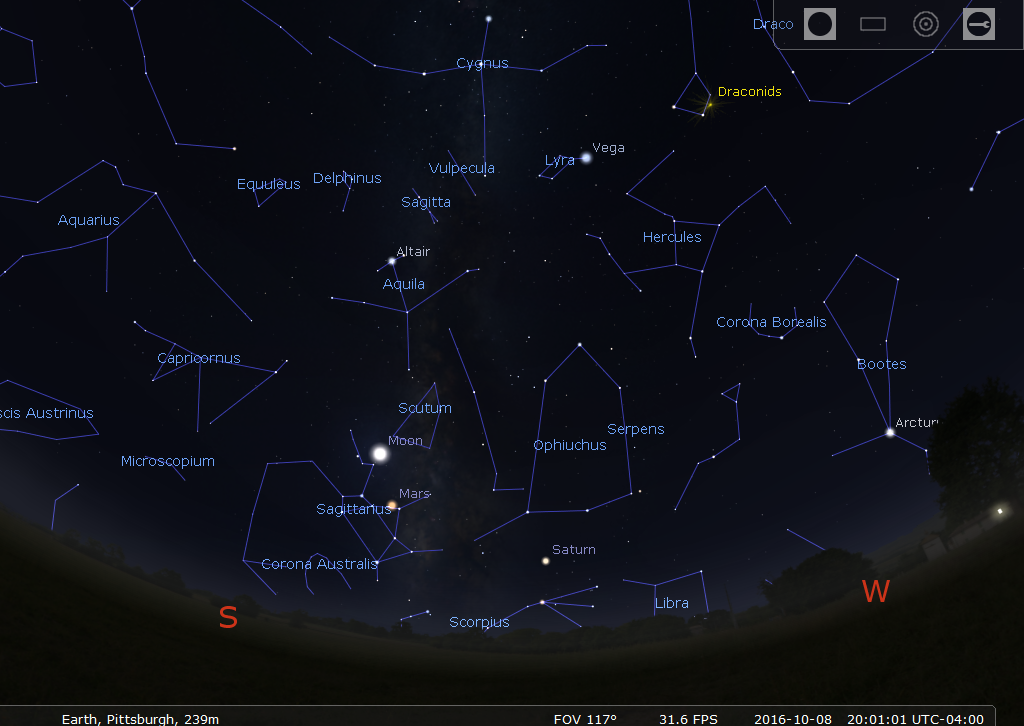 Amateur Astronomers Association of Pittsburgh invites the public to the  Wagman Observatory Star Party, Saturday, October 8 at 6:50 PM, EDT, Nicholas E. Wagman Observatory, Deer Lakes Regional Park, Frazer Township, Pa., near the village of Russellton in northeastern Allegheny County and some 18 miles from Pittsburgh.  Wagman Observatory is located at 225 Kurn Road Tarentum, PA 15084 ~ 724-224-2510 ~ Latitude 40.627 degrees Longitude -79.813 degrees. This post will be updated after 4:30 PM today in regards to the evening sky conditions as they develop.
See large clusters of stars, beautiful colored double stars, visit the craters of the moon and view the planets Venus, Saturn, Mars, Uranus and Neptune. It's all part of the show during October Star Party sponsored by the Amateur Astronomers Association of Pittsburgh.
This is an opportunity for amateur astronomers, students and the general public to observe the wonders of both the summer and autumn skies including the First Quarter Moon, The Great Hercules Star Cluster, the Andromeda Galaxy and Double Cluster in Perseus in the telescopes at the Observatory. Did you get a new telescope recently and don't know how to use it? Bring it along and members of the AAAP will help!
Looking to buy a telescope, accessories, star charts and books? Wagman Observatory is the place to start. We'll have free handouts, guides and booklets to point visitors in the right direction.
The Star Parties will be held WEATHER PERMITTING. The public should call 724-224-2510 for more information.
Admission is free, though we gladly accept donations to cover the cost of operation. To reach Wagman Observatory, follow the Orange Belt (accessible from Routes 8 and 28) to Deer Lakes Park, near Russellton. Follow the road through the Park for 1.2 miles and turn left on to the Observatory grounds. Please use parking lights only when you drive through the gate.
For additional directions or to check on the weather conditions, please call the observatory at 724-224-2510. If you get our voice mail or a busy signal, keep trying. We receive many calls for information just before and during the star parties.
For updates please check back and follow the AAAP Facebook Page .
Thank you the members and guests who braved the outflow from Hurricane Matthew to visit the Wagman Observatory, including County Executive Rich Fitzgerald, his wife and his daughter, and a scout group (hiking through Deer Lakes Park) who walked up from the north flank of the Wagman hill. Guests enjoyed a tour of the Brashear refractor, and an impromptu astronomy talks and questions. "Venus popped into view in the clearing near the horizon, and you could see the fuzzy ghost of the Moon, but that was about it for celestial observations." From TR's list post.
~~~~~~~~~~~~~~~~~~~~~~~~~~~~~~~~~~~~~~~