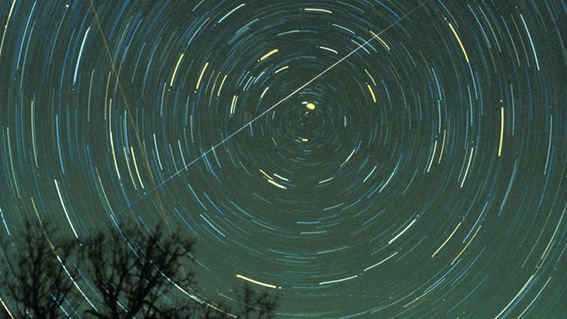 This year the Geminid Meteor Shower, traditiononally arguably (Perseid Meteor Shower) the best meteor shower of the year, is expected to peak on the night of December 13 into the morning hours of December 14, accompanied by the December Full Moon. In Pittsburgh the Moon is Full, December 13 at 7:05 PM EST with Moonrise at 5:06 PM EST that evening. This year's mating of the Full Moon with the peak of the meteor shower is disadvantageous for optimal meteor viewing with the bright moonlight expected to wash out all but the brightest meteors.
Early Evening Meteor Viewing Windows on Wednesday and Thursday Evenings, Before 6 PM and 7 PM , Respectively, Punctuated by Spectacular Moonrises
However in the nights immediately following Geminid peak the Moon rises approximately an hour later each night allowing an early evening window with a moonless sky as shown in the Stellarium. org screen capture diagrams below. The bonus at the end of the Moonless window is the opportunity to see the spectacle of Moonrise in the crisp December air. Native Americans named the December Moon the Cold Moon or the Long Night's Moon. When the Moon is near the horizon an optical illusion makes it appear even larger. This year, this month's moon is at perigee or a part of its elliptical orbit when it is closer to the Earth giving it an added boost in size. In recent years these perigee moons have been popularly named Super Moons. The Amateur Astronomers Association of Pittsburgh is not planning a public Geminid Meteor Viewing at the time. Geminid viewing opportunities will improve in 2017 when there will be less competition from Moonlight.
We encourage you to observe the 2016 Geminid Meteors and the December Full Moon on your own.  Remember to dress for the weather and to be alert and visible when out in the dark. For a warmer option view the Geminids live on Slooh beginning at 8 PM, Tuesday evening: From YouTube  here. From Slooh, here.  These live feeds include observations from observatories including: Institute of Astrophysics of the Canary Islands, and from sites in the United Kingdom, Sweden, and Connecticut in the US.
Live feed initiates at 8PM EST, Tuesday, December 13, 2016
Please enjoy the released AAAP 2017 Star Party Schedules for Wagman and Mingo Observatories which afford for meteor viewing opportunities during the 2017 Perseid Meteor Shower in August along with more star party dates for viewing all of the celestial objects.
In the meantime please join us at our monthly meetings held 7:30 PM, the second Friday of the month January – May (resuming again in September) at Carnegie Science Center.  AAAP Meetings are free and open to the public and feature a highly qualified entertaining astronomy speakers. Download a pdf  of the AAAP 2016-2017 Meeting program and Speakers Schedule here: aaap-speakers–2017
More: below and check back here and AAAP's Facebook page for updates on AAAP ongoing and future activities.
~~~~~~~~~~~~~~~~~~~~~~~~~~~~~~~~~~~~~~~