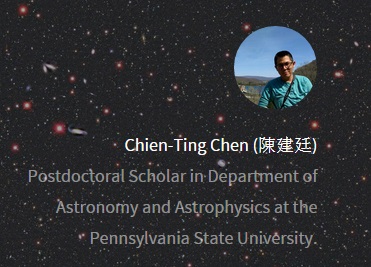 Galaxies are the building blocks that astronomers use to understand the evolution of the observable universe. During the past two decades, the most profound discovery in the cosmic evolution of galaxies is that in the center of almost every large galaxy there is a black hole with a mass range from tens of thousands to billions of times of the mass of the Sun. 
Our speaker Chen-Ting Chen,* Postdoctoral Scholar in the Department of Astronomy and Astrophysics at the Pennsylvania State University  will discuss how we find these supermassive black holes, and how their  "fiery breath" affects the evolution of their host galaxies that are usually billion of times larger in physical size. Click the image above for more about our speaker.
This lecture, "Hunting for Powerful Monsters, Super Massive Black Holes in Distant Galaxies,"  by Chien-Ting Chen, Phd,  Astrophysicist, Penn State University  is part of the monthly meeting of the Amateur Astronomers Assocition of Pittsburgh on the Science Stage,  Carnegie Science Center, Pittsburgh, PA.
Lecture begins following the meeting opening at 7:30. As part of the meeting opening there will be a brief presentation by Mars,PA's, Mayor Gregg Hartung and Mars New Year Spokesperson Missy Graylish. Our visitors from Mars will reveal the spectacular plans for this biennial May 4-6, 2017 event with three days of science, technology, engineering, arts and mathematics (STEAM) activities. Click image below for Butler County Tourism promotional video about the Mars New Year Celebration.
A break follows lecture. AAAP April meeting resumes after break with a review of the current and upcoming club activities including the nomination of officers and astronomical events.
Parking is $5 payable at the parking kiosk in the lobby. There is no charge to attend the meeting or lecture. The public is invited to attend. The upcoming program of 2016-17 Meeting Speakers may be downloaded here. Please see the AAAP Guide Star Newsletter and the AAAP Facebook Page for additional information.
* Chien-Ting Chen is currently a postdoc working with Professor Niel Brandt in the Department of Astronomy and Astrophysics at the Pennsylvania State University. He is also a member of the extragalactic survey and the obscured AGN science groups of ex the recently launched NuSTAR space telescope. NUSTAR was recently in the news (March 27)  for a puzzling galaxy merger. http://www.nustar.caltech.edu/news/nustar170327