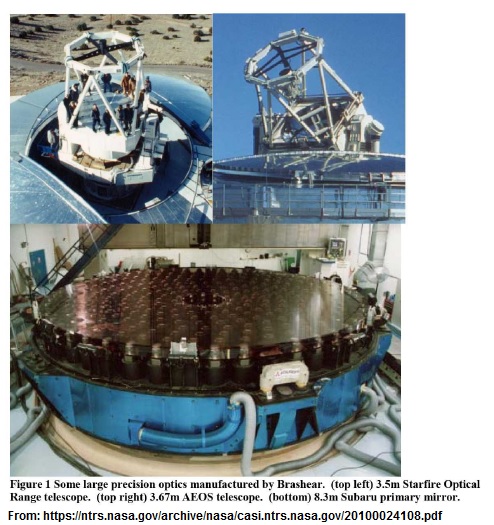 From John Brashear to 21st Century Optics and Telescopes, by Blaise Canzian, Ph. D.
The public is invited to the Amateur Astronomer's Association of Pittsburgh's Monthly Meeting Lecture, Friday, May 12, 2017, 7:30 PM, at the Science Stage of the Carnegie Science Center, Pittsburgh, PA 15212.
Telescopes have evolved both in technology and mission since the early days of John Brashear's company. Today's telescopes are tasked with satellite laser ranging, laser satellite communication, challenging astronomical research, and satellite imaging. Complex engineering combined with new technological advancements in optic fabrication have expanded our space situational awareness and enable astronomers to explore the universe like never before.
Dr. Blaise Canzian, Ph. D.  has a B.A. in Physics from Cornell University and Ph.D. in Astronomy from the California Institute of Technology. He is currently the systems engineer group manager for L3 Brashear and has contributed to more than 75 papers and technical articles. His professional affiliations include the International Astronomical Union.
L-3 Brashear is well known for the ground-based telescopes it has manufactured at its facilities and delivered to satisfied customers since the time of its founder John Brashear. Quite impressive optics from meter-class up to 8.3 meters diameter have been fabricated in Brashear's facilities. Advancing the most modern technologies Brashear has demonstrated capabilities for large high precision space borne optics. These optical technologies range from the stunning  ground based 8.3 meter primary mirror of the Subaru Telescope  located at the Mauna Kea Observatory on Hawaii. to NASA's famous Kepler Space Telescope primary mirror that searches for planets around stars beyond our solar system.
Following a brief intermission after the lecture, the AAAP May Membership Meeting will follow. 
~~~~~~~~~~~~~~~~~~~~~~~~~~~~~~~~~~~~~~~