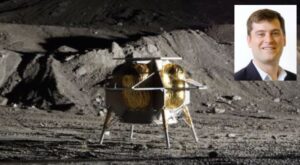 September 14th's business meeting at the Carnegie Science Center will feature guest speaker John Thornton, the CEO of Astrobotics. Mr. Thornton's talk "Making the Moon Accessible to the World" will describe the company's payload services to the Moon's surface for the federal government, foreign governments, companies and universities.
Featured Speaker Bio: John Thornton has grown Astrobotic's business of delivering affordable space robotics technology and planetary missions by attracting technology contracts, equity investment, and payload customers. Thornton is coordinating the team and alliance for Peregrine's development and the first mission. At Carnegie Mellon, Thornton led the build of Scarab, a NASA concept robot for lunar drilling, and the first robot to carry a prototype of NASA's RESOLVE payload. He founded Carnegie Mellon's Advanced Composites Lab, a research, training, design, and manufacturing lab specializing in high performance, lightweight composites for robotics."
Our usual meeting room, the Bayer Science Stage, is already booked that night, so our friends at the CSC have invited us to hold our meeting in the Buhl Planetarium. When you arrive, go to the ramp in the main lobby that takes you up to the second level. Tell the nearest CSC staffer that you're attending the Amateur Astronomers' meeting in the planetarium. The meeting starts promptly at 7:30 pm. After that the planetarium doors are locked from the outside and you will not be able to enter until the meeting break.
Notes: Time permitting, it's possible the Buhl staff will put on a few demonstrations of the planetarium's projection systems and graphics after the meeting. Also, check out the massive remodeling done in the CSC's main lobby…impressive. The meeting starts promptly at 7:30pm!