The Amateur Astronomers Association of Pittsburgh announces the award of a scholarship in the amount $1,000.00. *
Objective: To promote, improve, and encourage the profession of astronomy. Must be enrolled and accepted to study astronomy, physics, or mathematics.
This scholarship is limited to seniors presently enrolled in High Schools located in either Allegheny or Washington Counties of Pennsylvania respectively.
*This fund, administered by the AAAP, is made possible through a generous donation by an initial anonymous benefactor.
The 2016 winner of the AAAP Scholarship is Christina Park of Upper Saint Clair High School
AAAP President John Holtz presented a $1000 scholarship award from the AAAP for 2016 to Christina Park of Upper Saint Clair High School at the school's awards night on May 24.  Ms. Park appeared to be genuinely excited as she raced to the podium to receive the award after hearing her name announced at the ceremony. Quite a scholar, she will be attending Harvard University in the fall to study physics. The competition was stiff, seeing as the runner-up will be attending MIT to study mathematics. The scholarship committee, consisting of Becky Valentine, Art Glaser, Bill Roemer, and Ken Kobus had a difficult time in making the selection. We only wished that we could have given each of the applicants an award.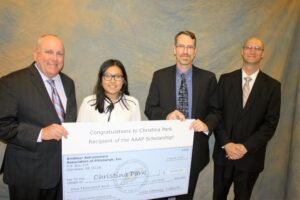 Pictured left to right
Patrick O'Toole – USC Superintendent
Christina Park – AAAP Scholarship winner
John Holtz – President of the AAAP
Louis Angelo – USC High School Principal
Application details for the 2017 Scholarship will be announced in early 2017.